The flexible garden tie that expands as the plant grows.
SOFT AND STRETCHY GARDEN STRING
Flexi-Tie has been available in the UK since 2001 and has a great following.
Why is it so good?
It is kind to your plants being made of a soft stretchy material that will not cut into or strangle stems.
It expands with growth and always lies FLAT against the stem.
It is UV & frost resistant, withstanding all weather types. Making it strong & long lasting.
It holds a knot and is easy to tie and untie.
Flexi-Tie is reusable and recyclable.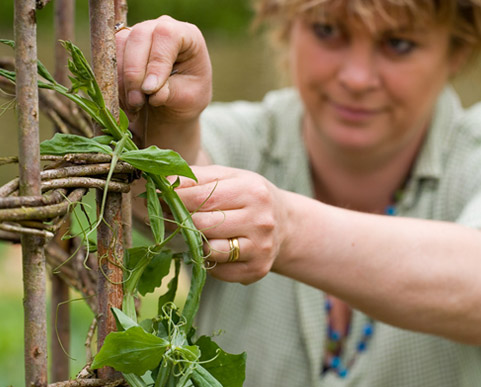 The Kind Way to Tie Your Plants!
Reviews
"Winner of Gold Medal at 2006 Chelsea Flower Show – Caspar Gabb's trade secrets: Which tools could you never be without ? '………Flexi-Tie …….'
'The only acceptable 'plastic string' I have come across is a brown tubular product called Flexi-Tie….(it) is efficient, discret and kind to stems"
Stephen Anderton
The brown stretchy string that is so good for tying in roses. Gardeners seem to love this stuff, and it is turning up in all sorts of other places.
Rhys Jones
It seems that brown stretchy reusable garden string has many devoted fans. It is, they say, virtually invisible and brilliant for tying up shrubs, roses and practically anything without damaging their stems.
Alisha Morris
I too have become an avid fan of this material. Just as you describe it is soft, strong and flexible, lasts for ages and is re-usable and doesn't cut into plant stems. From which you may gather that a version of this wonderful stuff is definitely still with us. Now sold as Flexi-Tie….
Noah Bailey
"Helen Yemm All Tied up in Knots'
A reader writes 'Plastic Flexi-Tie is wonderful but it stretches……..'
Helen Yemm answers 'Personally I won't have a word said against it. Apart from its wonderful brownness, another great plus, in my view and that of many devotees, is its very stretchiness, which makes for an extremely stem-friendly tie (particularly good for roses and climbers. I always make girlie-bows, which are easy to adjust as necessary. And Flexi-Tie is endlessly reusable"
Helen Yemm
"Tamsin Westhorpe writes 'The Fleix-Tie Set from Sarah Raven is the product
I've picked up time and again for use in the garden.
The stretchy plastic tie is brilliant for holding back thuggish and large plants….
I liked the brown colour as it was really hard to see….
it was my favourite of the bunch"
The English Garden